Carne asada and steak fajitas. Aren't they the same thing? Both are typically made from skirt steak or flank steak, although I have seen ribeye and other cuts such as hanger, and sirloin used as well. I've had both on flour tortillas and warm soft corn tortillas. As far as condiments go, when I'm in a hurry chopped onion, cilantro and salsa will do. For a sit-down meal, add lettuce, tomato, sour cream, cheese, rice, and beans.
So, just what is the difference between carne asada and fajitas?
Not much really. First, there is the name. In my opinion, fajita is just the Tex Mex word for carne asada. Next, we have preparation. Carne asada leaves your meat whole and pan-fried or grilled over hot coals. Once your steak is cooked to your desired doneness, let it rest 5 minutes, slice and serve. For fajitas take your raw steak and slice it thinly. Saute in a pan over med-high heat with sliced onions, peppers, zucchini, and mushrooms until the meat is done and serve.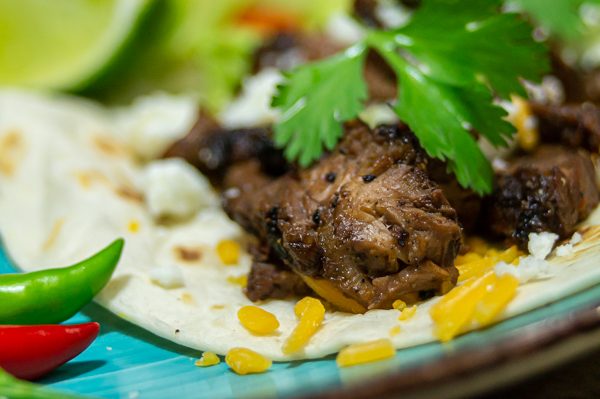 Honestly, it's going to taste good however you prepare it. Personally, I like mine grilled over hot coals of mesquite. Medium is my doneness for this type of steak. Slice it up and if I want the vegetables I'll saute them and add the sliced meat near the end. Do you and whatever sounds good to you and you can't fail. Experiment and have fun.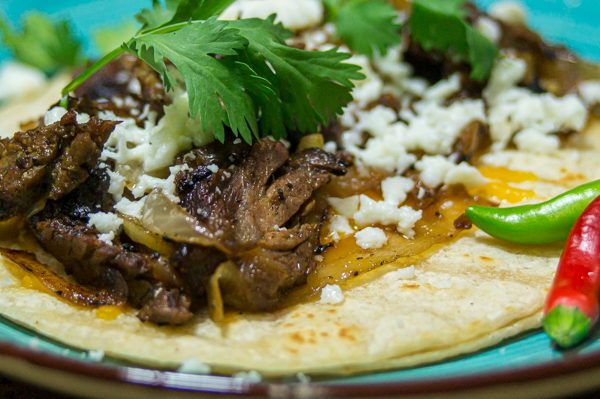 Carne Asada
Flavorful beef strips ready for tortillas. What's the difference between carne asada and fajitas? Not much really and you can either with this simple recipe
Ingredients
2

lbs

Skirt Steak

8

Flour Tortillas
Marinade
½

cup

Vegetable Oil

⅓

cup

Soy Sauce

¼

cup

Worcestershire Sauce

½

cup

Orange Juice

2

tbsp

Honey

1

Lime

Juiced

6

cloves

Garlic

Chopped

2

tbsp

Cumin

1

tsp

Oregano

¼

cup

Cilantro

Chopped

1

tbsp

Black Pepper

1

tbsp

Salt

Fine

1

Jalapeno

Chopped
Instructions
The day before you plan to cook, mix all of your marinade ingredients in a zip lock bag, seal and shake to combine.

Add your steak making sure all sides are coated with the marinade. Remove the excess air and seal the bag. Place in the fridge to marinate overnight. Make sure to flip and agitate the bag a couple times before cooking.

When you're ready to start cooking, remove the meat from the bag and place on a plate. Reserve the left over marinade in a bowl and set aside.

Start your coals in the grill allowing the meat to come to room temperature while you wait on the coals.

Place your meat on the grill once your your coals ash over. Brush the meat with the leftover marinade, turning the meat every couple of minutes. IMPORTANT: Do not consume meat that has been brushed with marinade that has not been cooked. The marinade needs to be cooked to ensure no one gets sick.

Don't worry if the meat gets a little charred, that's the good stuff.

When he meat is cooked to your desired temperature, remove it from the grill and let it rest 5 minutes.

Once the meat has rested, slice it in thin strips against the grain.

Stuff into warm corn or flour tortillas and top with your favorite condiments.