There was a time, long ago, that ramen noodles were a regular part of my diet. I'm pretty sure that I am not alone in that regard. When my daughter was little, these were a go-to meal for her. She would pop the noodles in a bowl, cover them with water and throw them in the microwave. Then she would drain the water off and add the flavor packet. Yuck! A bad habit she picked up from my wife and part of the reason I do the cooking for the most part. I needed a ramen recipe with enough stuff in it to make a real meal and I needed it to be simple.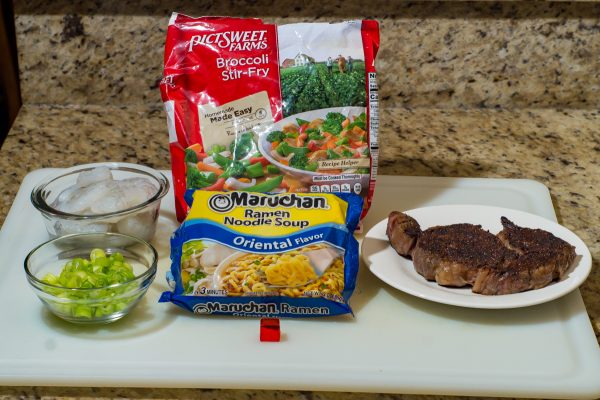 You have a couple of options here which I'll cover briefly but make sure you read the recipe notes below. First is the shrimp. I like to pan fry them for one minute on each side. It's not needed but just my preference. The ending texture is a little different and the shrimp flavor isn't as strong to me. If you fry the shrimp, don't add them to the pot until the end of the 3-minute boil. Second is the beef. I have used leftover steak and roast. I've even used deli roast beef. All variations yielded great results so experiment.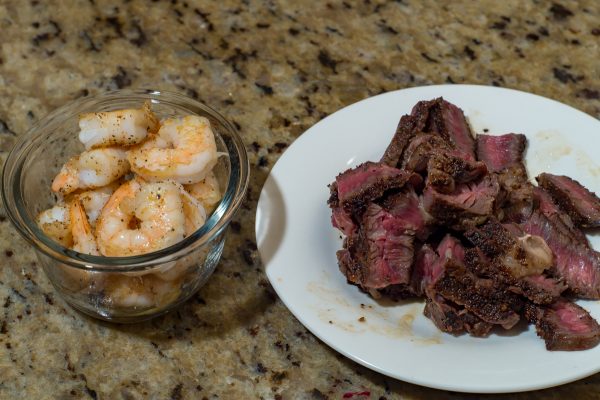 As far as vegetables go, there are plenty of freezer blends available for your ramen recipe. You may also find some fresh blends at the market if that is important to you. Sometimes I'll add thinly sliced fresh mushroom as a garnish in the end. Play with it because the rules are loose here. Also, if you haven't used sesame oil before, use it sparingly. It is very strong.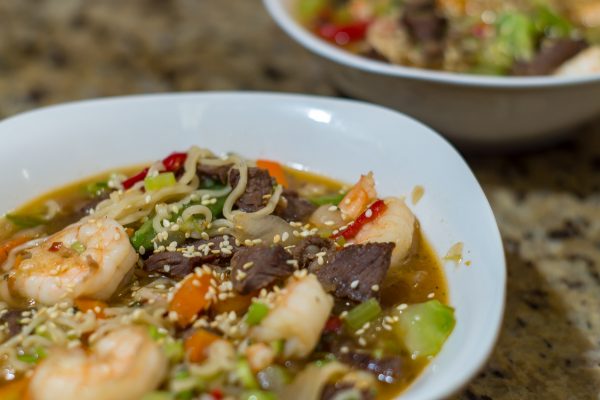 Products to help cook your Ramen Recipe
Surf and Turf Ramen
This is a simple ramen recipe that adds some of the good stuff our bodies need like protein and veggies with the straight comfort food experience that comes from the noodles.
Ingredients
12

Shrimp

Lg. I used 26/30

8

oz

Beef

1/4

cup

Green Onion

Sliced

2 1/4

cups

Water

2

cups

Frozen Stir Fry Vegetables

1/2

tsp

Dried Chives

1/2

tsp

Dried Basil

1

pkg

Ramen Noodles
Instructions
Put water, bullion cube and vegetables in a pot and bring to a boil.

Add the flavor pack from the noodles and the beef and return to a boil.

Add your shrimp and green onions and return to a boil. Once boiling, add the noodles and boil for 3 minutes.

Let sit for 2 minutes and then divide into two bowls.

Drizzle with a little sesame oil and sprinkle with sesame seeds. Serve and enjoy!
Finnibus Bonorum
I am alone, and feel the charm of existence in this spot, which was created for the bliss of souls like mine. I am so happy, my dear friend, so absorbed in the exquisite sense of mere tranquil existence, that I neglect my talents.