Staying in line with my love of Tex-Mex, I wanted to come up with a themed dessert. If you love cinnamon then this dessert is for you. It's crispy, creamy, fruity and sticky.
The base for this recipe is flavored, spreadable cream cheese and while this recipe is based on strawberries, you can experiment with all the different flavors out there. I think I'm going to try blueberries next time.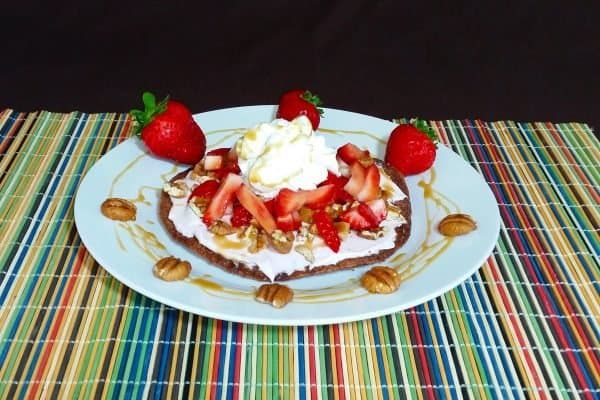 The idea for the cinnamon crisp tortilla came from the Pioneer Woman website and you can find the original recipe here. I only made a couple of little tweaks which were more cinnamon and the addition of nutmeg.
You can make your tortillas a day ahead and store them in a ziplock bag. Make them at least far enough ahead to completely cool before preparing. I have this listed as four servings but my wife and I usually split one and it's plenty for us.

Products to help cook your Dessert Tostada
Print Recipe
Dessert Tostada
Yum
If you love cinnamon this Sticky Dessert Tostada is for you. It's crispy, creamy, fruity and sticky. Experiment with different fruit flavors for a change.
Preheat oven to 350 degrees.